---
Welcome to the Upper Rio FM Society's website!
The mission of the Upper Rio FM Society, Inc. is to provide a State-of-the-Art
Amateur Radio repeater network for the benefit of our members, licensed Amateur Radio
operators, the community and provide public service communication support in times of emergency.
---
QST
10/20/2018 – Capilla Repeater (.96) Down
Due to the storm earlier this week, the Capilla (.96) repeater appears to be down due to a major ice and wind event. We will not know the status of the repeater / site until the technical team can got to the site and inspect it. The technical team will make ever effort to get to the site ASAP.
---
QST
Did you hear the Upper Rio FM Society has a new repeater?
If not you must not be on our newsletter mailing list. Sign up and get the latest Upper Rio News.
On July 14, 2018 the Upper Rio placed a new repeater located on Sandi Peak into operation.
Call Sign: K5FIQ,
Frequency: 442.450 MHz, with a + offset and a PL tone of 67 Hz.
Output power: 23 watts to an omnidirectional antenna mounted about 45 feet AGL.
For more information on the repeater see the announcement.
---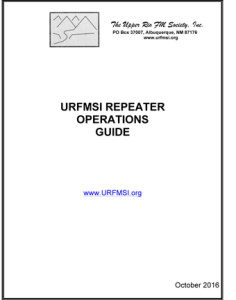 Download your copy of the repeater guide now —>
The Upper Rio FM Society
The Upper Rio FM Society started its journey as a club in 1968 with the help of eleven enthusiastic Hams interested in advancing the use of the two-meter band. Today, the organization boasts nine linkable 2-meter and 70-centimeter repeaters (two of which are D-Star digital repeaters). The linking system also has access to over 40 additional 2-meter and 70-centimeter repeaters located around New Mexico that make up the Mega-Link and other affiliated systems.
Whether you are a new or experienced Ham, an existing URFMSI member or someone who is interested in joining our organization, we hope that this website is useful. Enjoy, and please don't hesitate to contact us with your comments or questions!
---
QST
---
Report a problem: Have you noticed a problem with a repeater? If so please give us a shout at technical@urfmsi.org
We wish to thank the generous support from:
Repeater Network Outages and issues

None at this time

D-Star Status